Plus Side Quilt – Easy Beginner Modern Plus Quilt Pattern
Today I'm sharing the Plus Side Quilt. The Plus Side quilt pattern is an easy, beginner friendly, modern plus quilt and somehow it never made it up on the blog! This one is an old one! You can tell by the age of the baby..haha. And I made this plus quilt well before she even showed up.
Plus Side quilt is fast and easy and perfect for the beginner quilter. Piecing this plus quilt is simple and it's a good introduction to doing corner square triangles.
The Plus Side quilt pattern requires fat eighths or fat quarters so it is very stash friendly.
Plus Side is available in the Quilty Love pattern shop.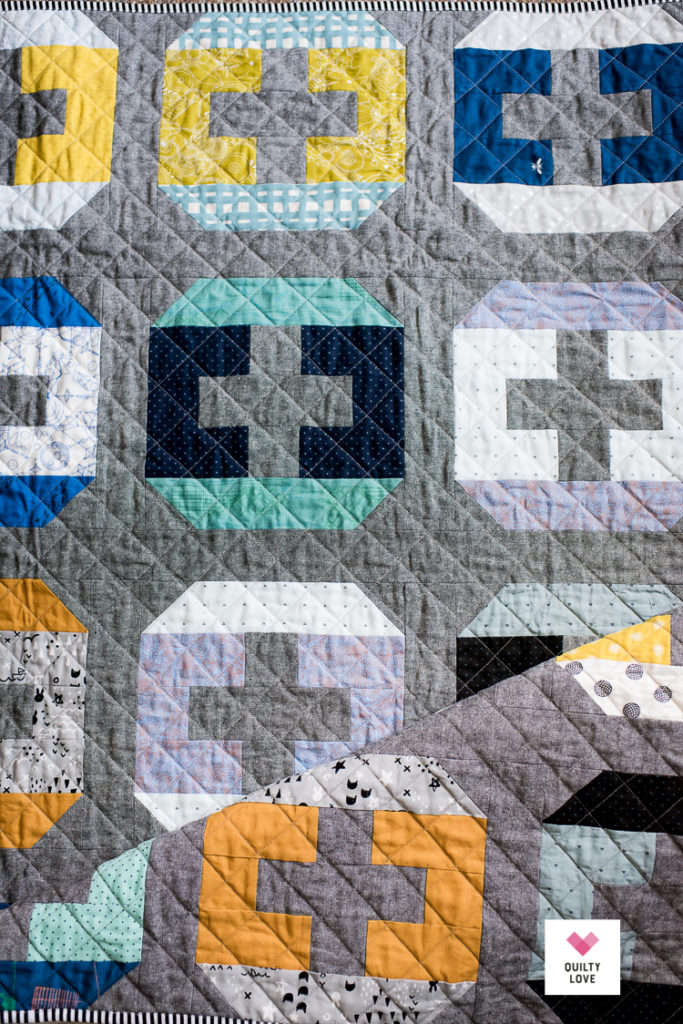 I started this quilt so many houses ago…lol. I can still remember working on it way back in my studio space along the dining room. I don't think it was quilted up until we were in our temporary apartment. And then it didn't get photographed and turned into a quilt pattern until possibly our current house. This one dragged on for a few years and a few houses…lol.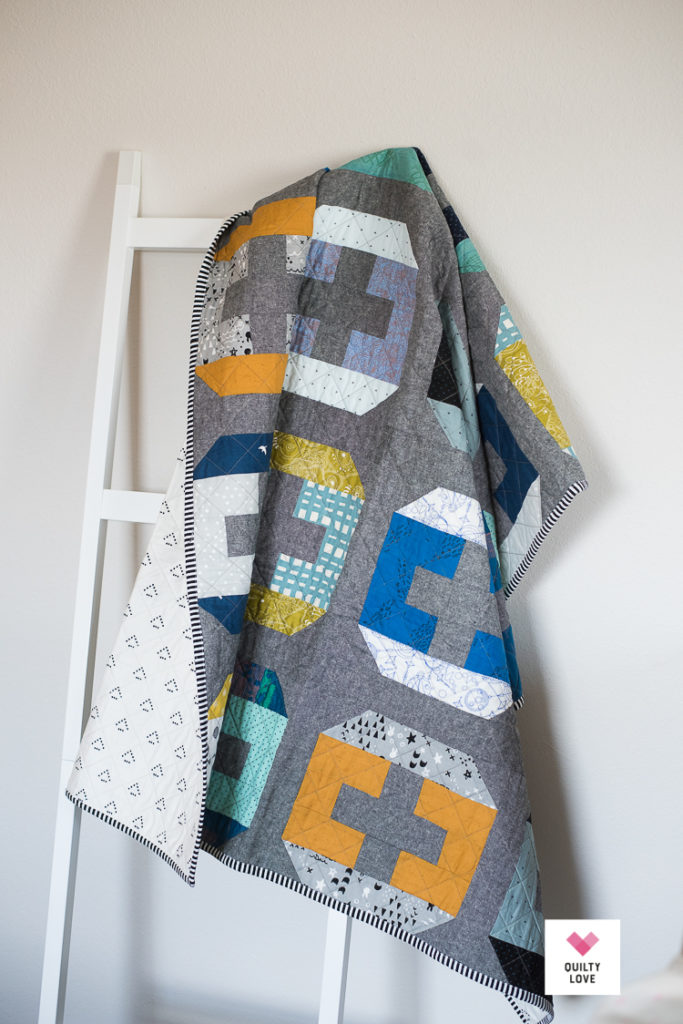 If it looks familiar, that is because it showed up in this machine binding tutorial. I used this plus quilt as the sample quilt to write the binding blog post.
Check out that machine binding post if you are struggling with your binding! A lot of quilters have found it very helpful.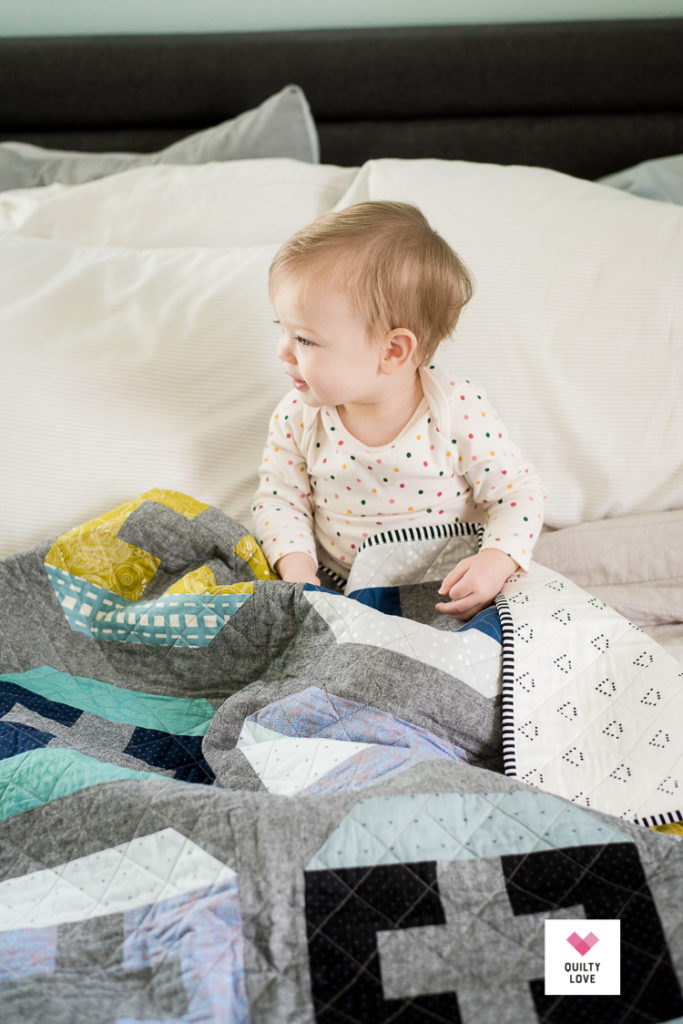 Plus Side quilt pattern
The Plus Side quilt pattern is written with beginner quilters in mind! This would make a really great first quilt. I actually tested it out on my sister who was a new quilter ;).
Plus Side is a fat eighth or fat quarter friendly quilt pattern. Mix and match fat eighths or fat quarters from your stash to make up this simple plus quilt.
I curated the fabrics in this quilt from my stash. They are mostly older cotton and steel fabrics. I see a few Carolyn Friedlander mixed in also.
Gender Neutral quilt
Plus Side is the perfect gender neutral quilt pattern. Great for boy quilt, girl quilt or as a baby quilt when you don't yet know the gender. For this version of Plus side, I choose blues, aquas and a little yellow from my fabric stash.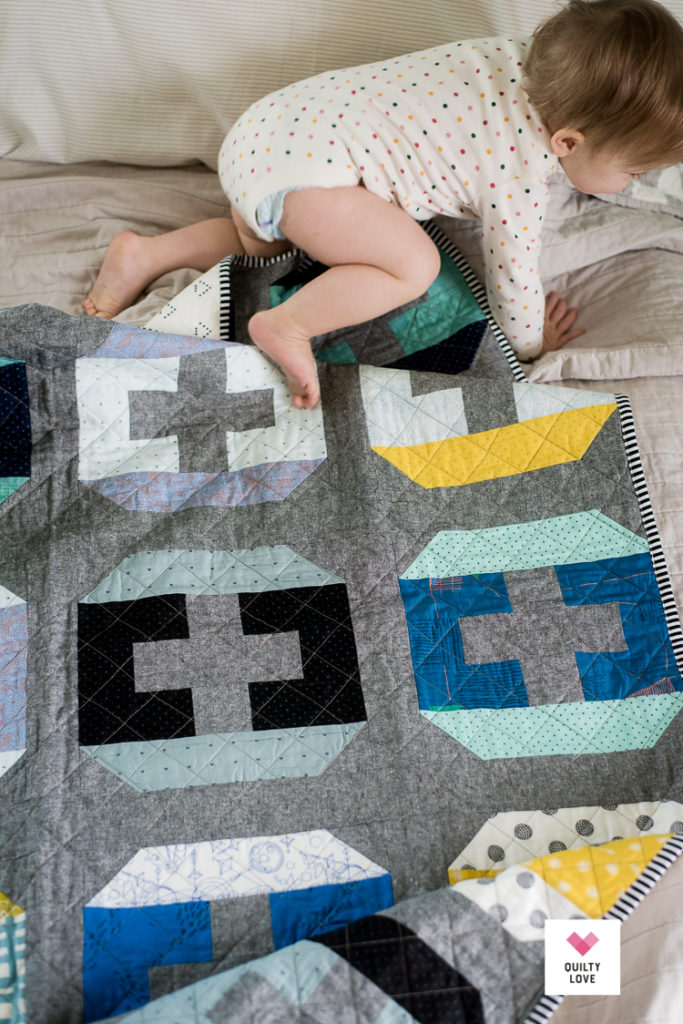 Machine quilting
I quilted this Plus Side quilt myself using a walking foot on my smaller Janome machine. I straight line quilted diagonal lines in each direction to form a diamond grid quilted pattern.
The straight lines look like they are quilted about 1.5 inches apart.
Straight line quilting using a walking foot is a really great beginner friendly way to quilt your own quilts. A walking foot really does make all the difference so if your quilt didn't come with one, it's worth getting one! I just found myself a cheap singer brand walking foot for my Janome machine and preferred it over the Janome brand.
When looking for a walking foot, just be sure it has the same attachment as your machine.
Essex Linen background
The background of this Plus Side quilt is Robert Kaufman Essex Linen in the color black. I love how fabrics pop off this black Essex Linen. Plus that linen gives it so much texture. I work with Essex Linen in my quilts often because I love the extra texture and warmth it provides.
Linen does fray and has caused some problems for quilters. Check out this blog post for tips and tricks when sewing and quilting with linen.
I personally have not had any issues when quilting with linen but I always use a smaller stitch length as a pre-caution. I rarely pre-wash anything but it's never a bad idea to pre-wash linen since it does shrink up more than quilting cotton.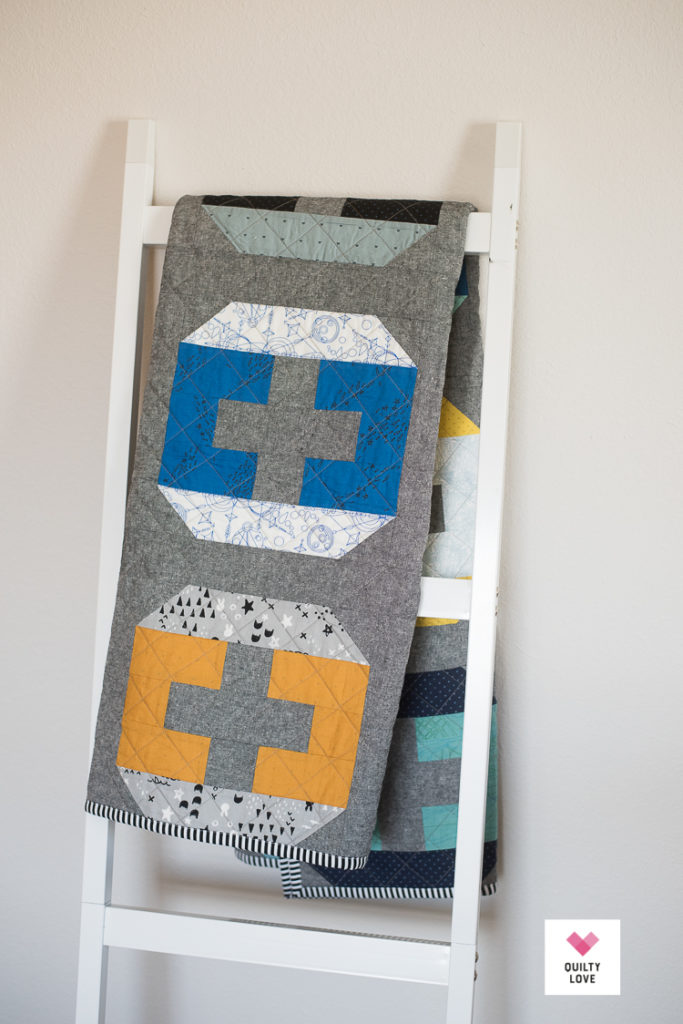 Plus Side quilt sizes
The Plus Side quilt pattern includes instructions for a baby size, a throw size and a queen size quilt. This linen and Cotton and Steel version is the throw size.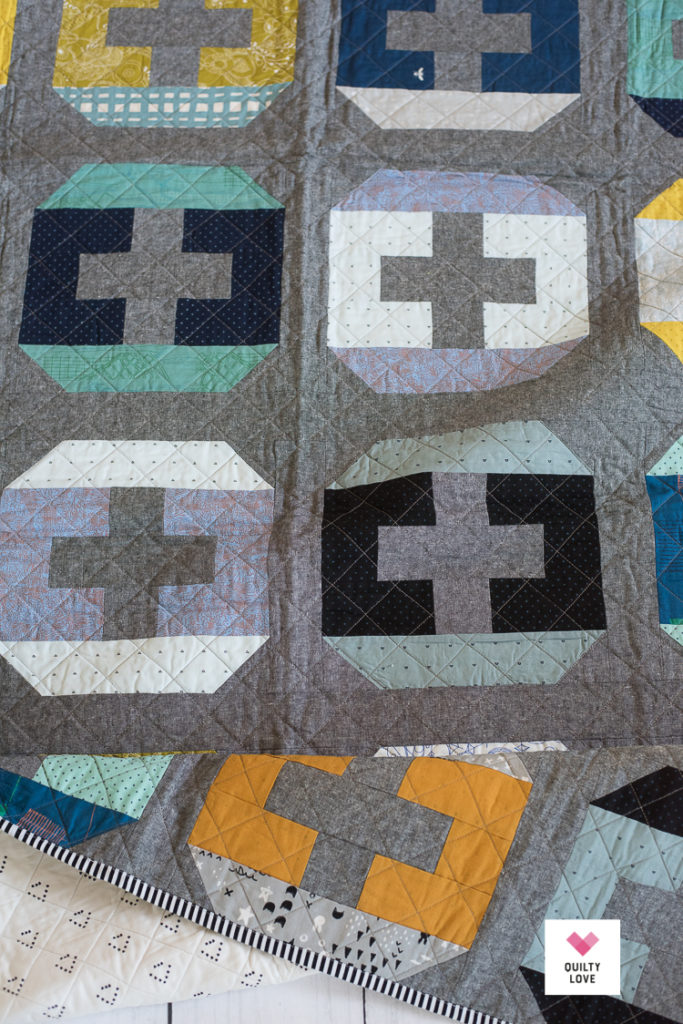 Using sheets as a quilt backings
I used a Target bed sheet as the backing of this quilt. I love using sheets as backings and do it often. There are two reasons I love using sheets as quilt backings: Time and money.
You save time by not having to piece a quilt backing and it can be a lot cheaper to use a sheet as a backing over quilting fabric.
If you buy the sheet set in a larger size like full or queen then you can use both the fitted and flat sheet in two different quilts.
I'm a pretty fearless quilter so I'm willing to try any fabrics in my quilts. I've used sheets several times without issues. However, when looking for sheets to use, stick with a better quality cotton sheet.
Stick with good quality sheets that are 100% cotton
The sheet used in this quilt is a little silkier and not the best option. It might not even be 100% cotton. Stick with 100% cotton and it should wash up nice and soft just the same as your quilt top. Stick with a better quality sheet so it doesn't pill with washes.
This very loved and very washed Fancy Fox quilt has a sheet backing and it has washed up so well! I really wish I had stocked up on that exact sheet because it hasn't been available for a long time.
My favorite places to find sheets as quilt backings is Target. I also love using Ikea duvet covers! Just like sheets, you can get two backings from one duvet cover when you cut it apart.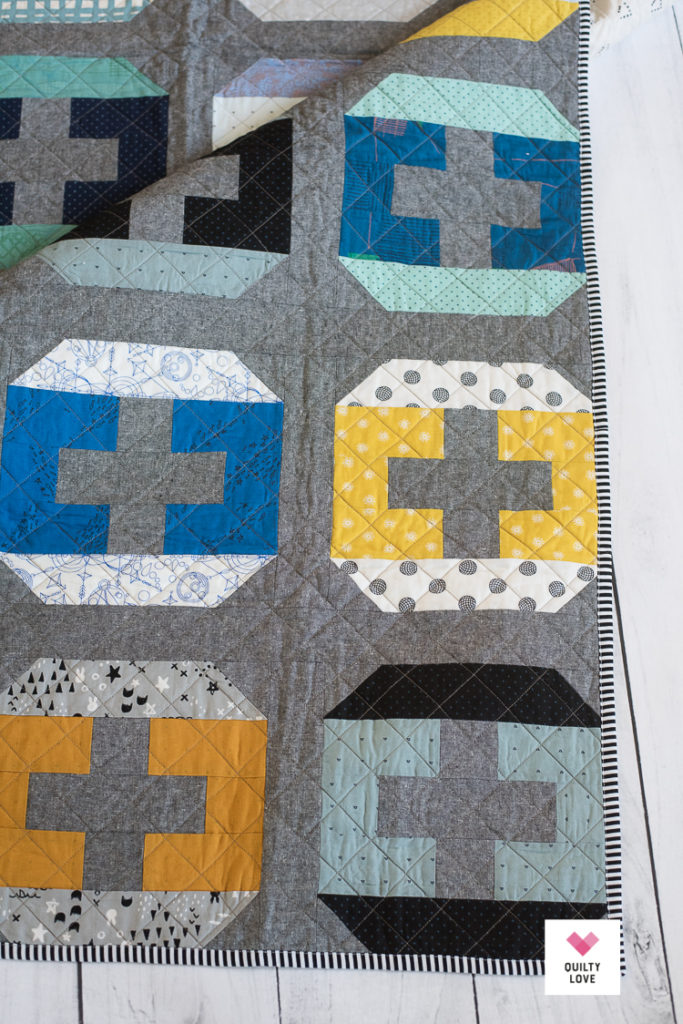 Striped binding
I finished off this simple plus side quilt with a black and white striped binding. Black and white striped bindings are so classic! These stripes are a little tighter but lately I've preferred a striped biding with wider stripes.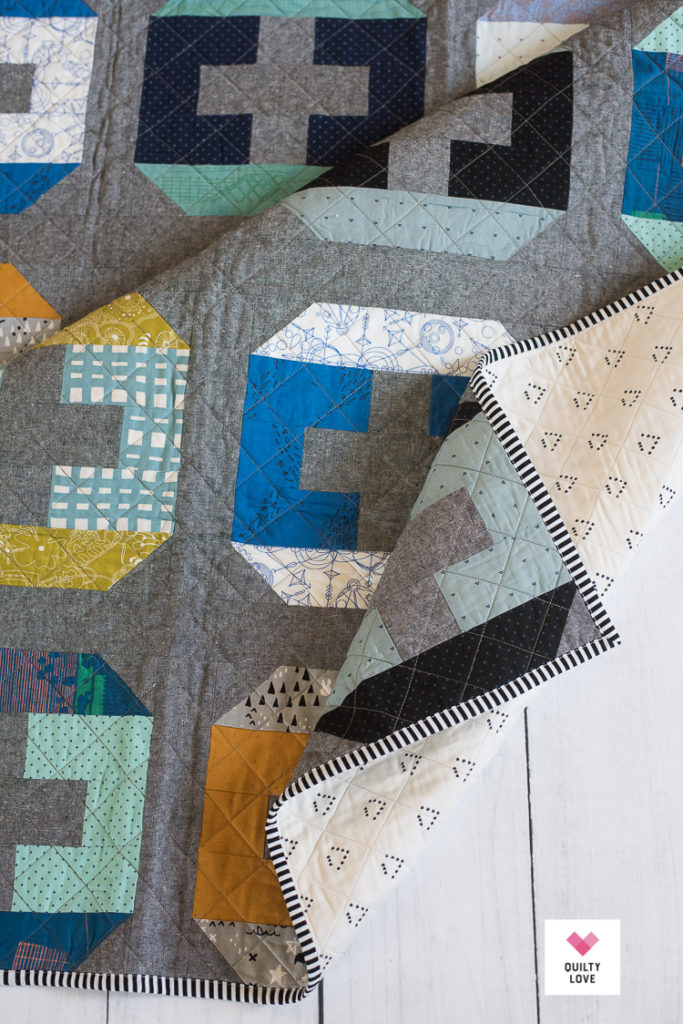 Fast and easy beginner friendly plus quilt
If you are looking for a fast and easy quilt or even a first time quilt project, Plus Side is just that! Raid your stash for some fat eighths or fat quarters and sew up this modern plus quilt this week!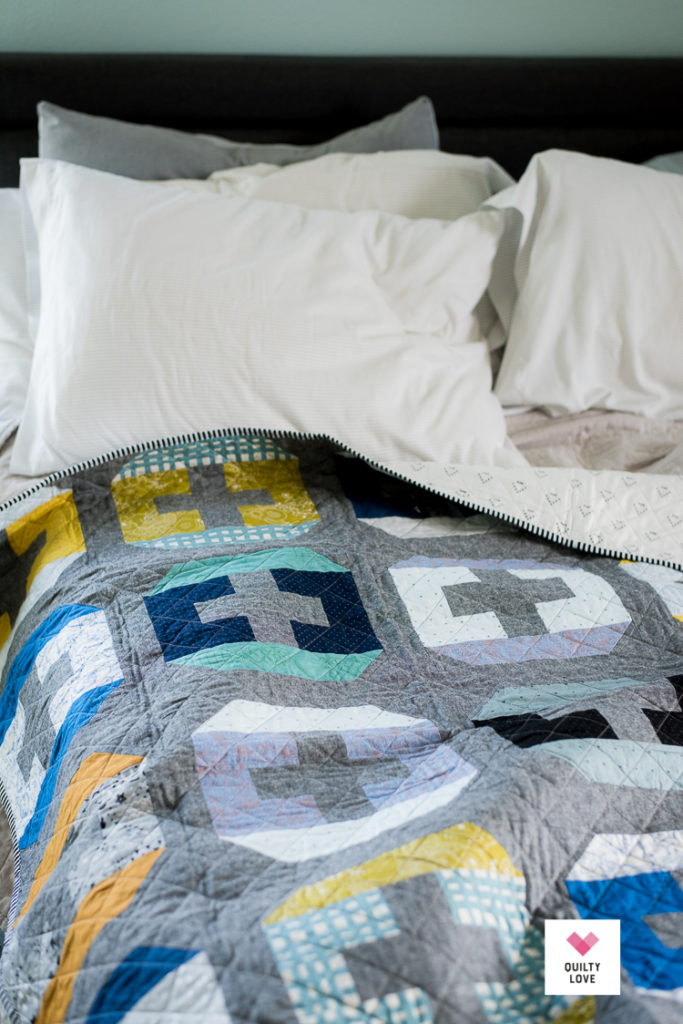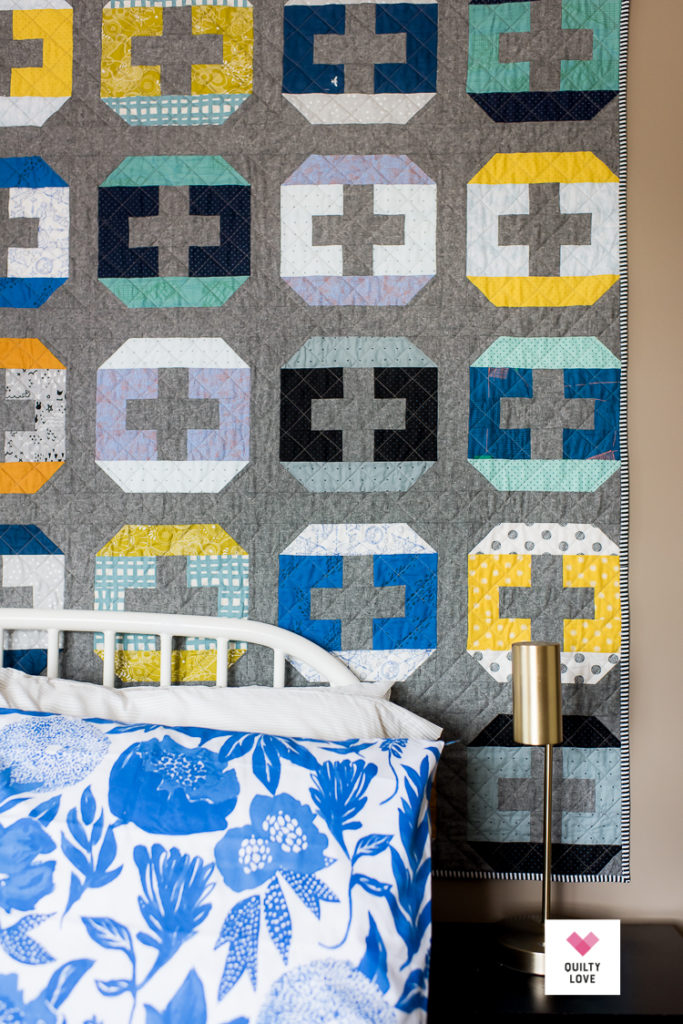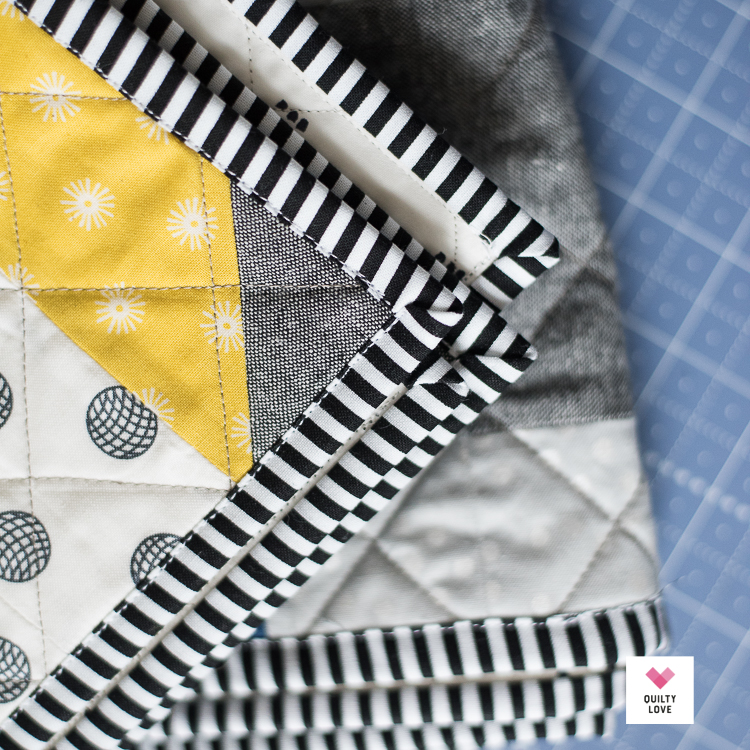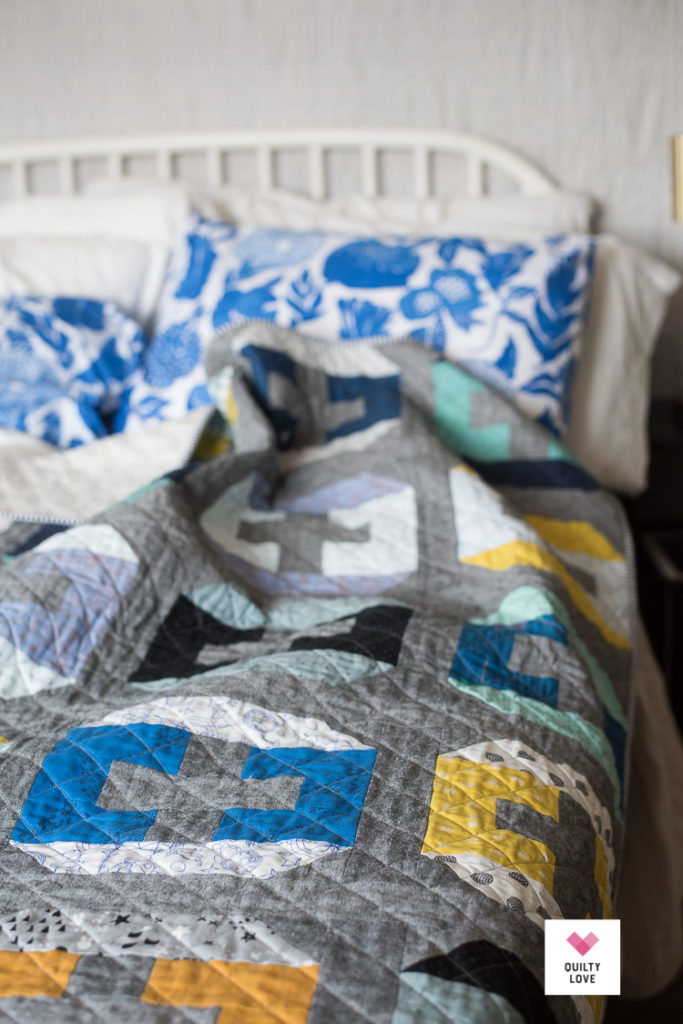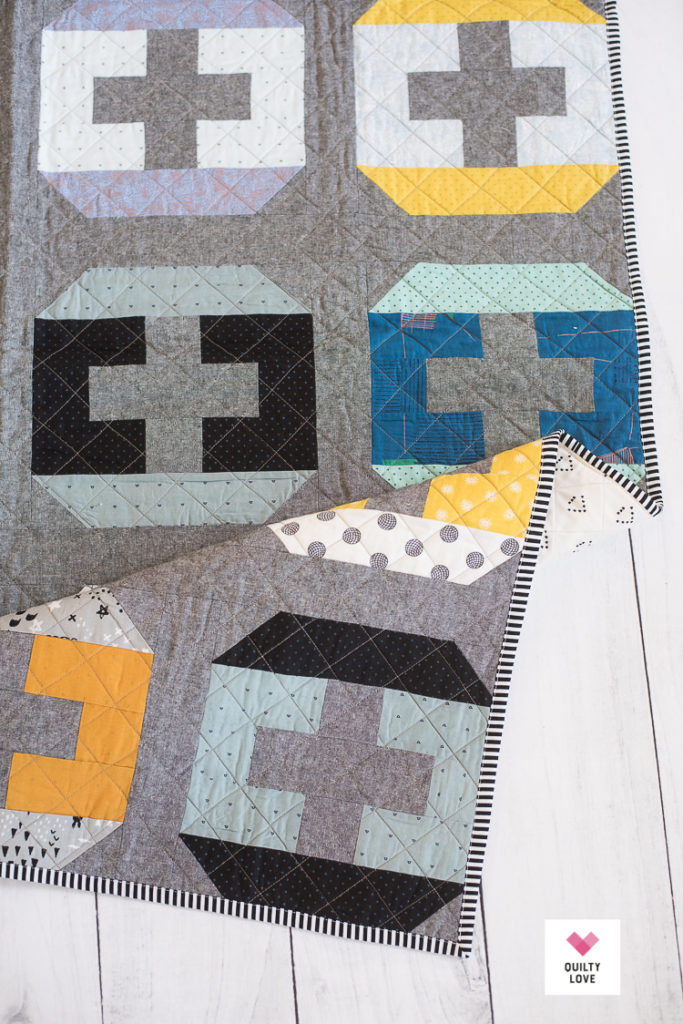 Materials Used:
Quilt Pattern: Plus Side quilt
Fabrics: Cotton and Steel, Carolyn Friedlander and other misc fabrics from my stash
Binding: Timeless Treasures stripe
Backing: Target sheet
Batting: Warm and White
Spray baste: 505
Pieced and quilted on a Janome 4120QDC